Dear Users…….
Bangalore has undoubtedly become the hub of new startups and here comes another one – Zipgo which provides bookings for local buses in Bangalore and Delhi-NCR for fare as low as Rs 29 only. Not only this, you also get Rs 150 free on sign up using referral code and can earn unlimited wallet money by referring your friends. Can't get better than that !!
ZipGo is a member's only, private, on-demand bus service.
How to get Rs 150 free in your zipgo wallet ?
2. Now open the app and sign up with facebook or google
3. Verify your mobile number and in referral code box, enter code – "
shubhamkumarv
" . This will give you Rs 150 free in wallet.
4. Now select your route and click on "Reserve' Confirm. Clicking on confirm will deduct the money from your wallet.
5. Now click on "Confirm" . Clicking on confirm will deduct the money from your wallet.
5. Now a boarding pass will be generated for you. Show this to the driver.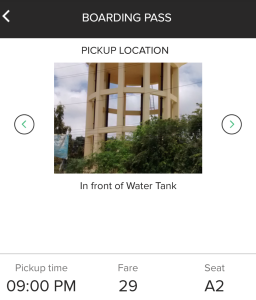 How to refer and earn ?
Not only you get Rs 100 free on your sign up using referral code but you can also invite your friends to this awesome app and get Rs 100 per each friend after they take their first ride !! Win-Win situation for both you and your friends.
1 . Click on top left icon >> Invite Friends
2. Now here you will see your referral code and social sharing buttons. Use them to share he referral code on whatsapp, facebook etc.
3. If your friend downloads the Zipgo app using your referral code and takes his first ride, you will get Rs 100 in your wallet.
Enjoy !!
With the ZipGo app you can
– view all the routes that ZipGo serves
– view the Estimated Time of Arrival (ETAs) of buses on your chosen route
– view seat availability and reserve a seat on a bus
– track the bus movement in real-time in the app
Seats can be reserved in 3 easy steps
– Select the bus-stop you want to board the bus and the destination bus-stop
– View the timing, ETAs and seat availability for all the buses on that route
– Reserve a seat on a selected bus and get the boarding pass in the app
Once you reach the boarding bus-stop, just hop on-board and show your boarding pass to the on-board ZipGo staff. Then, just sit-back, relax and enjoy the ride – as we take you comfortably to your destination.
Tags:- free bus ride , latest bus offers , free cabs ride , free cab & bus ride loot .